NExT Steps: A Unique Nurse Librarian EBP Collaboration
This class is no longer accepting registrations
NExT Steps: A Unique Nurse Librarian EBP Collaboration is a 1 hour live webinar presented Wednesday, April 6 at 3pm ET/2pm CT/1pm MT/12pm PT.
Nurses need to document and demonstrate that they engage in research and implement evidence based practice (EBP) to enhance healthcare quality, improve patient outcomes, and reduce costs. However, despite the explosion of scientific evidence, evidence-based care is not standard of care.
The University of Illinois Chicago's (UIC) Library of the Health Sciences and the College of Nursing have been engaged in a series of EBP education programs targeted to public health, acute, and ambulatory care nurses, called Nursing Experts: Translating the Evidence (NExT). These programs have expanded and built upon each other through partnerships and connections, and the online content has been kept engaging, visually appealing, and navigable across various devices. The current expanded content provides nurses with seven free continuing education hours, and to date, more than 800 public health and 350 acute and ambulatory care nurses have benefited from NExT.
This one-hour session will consist of a panel presentation covering an overview and history of the program, a demonstration of the module, and future plans for the project. It will conclude with a question-and-answer session.
Spotlight Speakers
1. Krista Jones DNP, MSN, RN, PHNA-BC is Director of UIC College of Nursing's Urbana Regional Campus and a Clinical Associate Professor in the Department of Population Health Nursing Science. Dr. Jones is a board certified Advanced Public Health Nurse and currently serves as President-Elect of the Association of Community Health Nursing Educators, President of the Champaign County Board of Health, and Chair of the Illinois Nursing Workforce Center Board of Directors. For the last 14 years, she has instructed undergraduate, graduate, and doctoral students enrolled in Population Focused Nursing, EBP, Professionalism, Nursing Theory, and Leadership and Management courses.
2. Rebecca Raszewski, MS, AHIP is Associate Professor & Information Services & Liaison Librarian at the Library of the Health Sciences at the University of Illinois Chicago. She has worked with nursing on the Chicago campus since August 2008. Her most recent publications have focused on data management education in graduate nursing programs and nursing faculty's awareness of information literacy standards.
3. Carmen Howard is a Regional Health Sciences Librarian and Instructor at the University of Illinois Chicago's Library of the Health Sciences in Peoria. Her professional interests include Community Engagement and Outreach, Patient Education, Open Education, and Special Collections. She has been a NExT team member since the beginning of the project.
4. Patty Eathington DNP, RN is an Associate Professor in the School of Nursing at Western Illinois University. She has completed her formal education through the University of Illinois Chicago with a Doctorate in Nursing Practice, Master's degree in Advanced Community Health Nursing, Bachelor of Science in Nursing and a post-master's certificate in Nursing Education. Her teaching areas include Public Health Nursing, Transcultural Nursing and Professionalism in Nursing. Her research interest is public health nursing and rural populations. Dr. Eathington has been a part of the NExT project since its inception.
5. Frances Drone-Silvers, M.S., is the Biomedical Information Specialists (AKA Librarian) for Carle Health, based in Urbana, IL.
6. Angela O'Bryant is a Clinical Associate and Director of Academic Programs (Community Health Programs, ELI2TE – Early Longitudinal Immersion Interprofessional Team Experience, Medical Colloquia, and Urban Medicine) at the University of Illinois College of Medicine in Peoria (UICOMP). She joined UICOMP in 2018 after a 25-year career in the obstetric hospital setting, most recently as the Director of Obstetrics at Illinois Valley Community Hospital in Peru, Illinois. Angela holds a master's degree in Nursing with an emphasis on Public Health Leadership.
7. Lori VanWingerden is the EBP & Research Nurse Specialist for the Carle Health System. She has been a nurse for 36 years in multiple roles at Carle. Her focus has always been toward facilitating best practices. She has held clinical, management, professional development, consulting/project management and, most recently, the EBP & Research role. She maintains a certification in Nursing Professional Development and has led and guided many evidence-based projects. She personally led and published/presented research on a custom patient care delivery model used at Carle and a needs assessment tool for evaluating EBP culture in the workplace.
8. Annie 'Nicky' Nickum currently works as an Information Services and Liaison Librarian and Assistant Professor at the University of Illinois Chicago, where she supports the College of Nursing and the University of Illinois Hospitals. Her research interests include consumer health literacy amongst nurses and supporting the translation of student health literacy to nursing practice. Before coming to UIC, she worked at the Library of Health Sciences at the University of North Dakota as the Nursing and Biomedical Sciences Librarian. She obtained her MLIS from the University of Wisconsin-Milwaukee in 2013.
9. Dr. Susan Vonderheid, is the Director Nursing Research and interim Coordinator of the Nurse Residency Program at the University of Illinois Hospital & Health Sciences System, and Clinical Assistant Professor in the Department of Human Development Nursing Science, University of Illinois Chicago (UIC). Her primary areas of interest include research and evidence-based practice to improve the quality, safety, and effectiveness of care for low-income women and children of color.
NNLM Region 6 Speaker Spotlight Series is an irregular webinar series from the NNLM Region 6, featuring expert guest speakers presenting on topics of interest to all our users, from librarians to public health practitioners, educators, clinicians, and others who work with health information. Topics will be scheduled according to audience interest, seasonal applicability, and speaker availability. For more information, contact Region6-RML@uiowa.edu.
Objectives:
Topics provide information to help attendees do one or more of the following:
Know their communities
Better understand health consumers
Evaluate health information
Increase knowledge of resources and subjects
Improve health-related communication, reference, instruction, and programming
Increase health literacy
Understand and explore the relationship between technology and health
Explore ethical and legal issues
Assess needs for health information
Obtain and disseminate health-related information
Identify sources of secondary data related to health
Accessibility This webinar includes live closed captioning.
Code of Conduct NNLM is dedicated to providing a welcoming and supportive environment for all people, regardless of background or identity. As such, we expect respectful interactions with instructors and learners. Read the full Code of Conduct here.
Recording The recording of this webinar will be posted to our YouTube channel 1-2 weeks following the live event.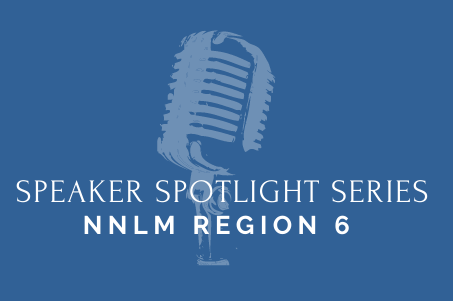 Class Details
Time:
3:00 PM - 4:00 PM EDT
CE Categories:
CHIS Level 1, CHIS Level 2
This class is sponsored by Region 6.
Learn more about this class and find other upcoming instances:
Class Contacts
Can't join us live?
Register anyway and you'll receive the recording after the event.