Region 1 Unconference: Bridging the Digital Divide (Day 2)
Issues such as decreased internet connectivity, lack of Wi-Fi, and video chat or webcam technology in both urban and rural areas can hinder access to online health and medical information, and telehealth to its fullest capacity, especially to communities of color, the poor, and medically underserved. The goal of this initiative is to promote technology and digital equity, digital literacy, and telehealth through long-term partnerships and collaborations that will bring access to online health information to communities across the United States.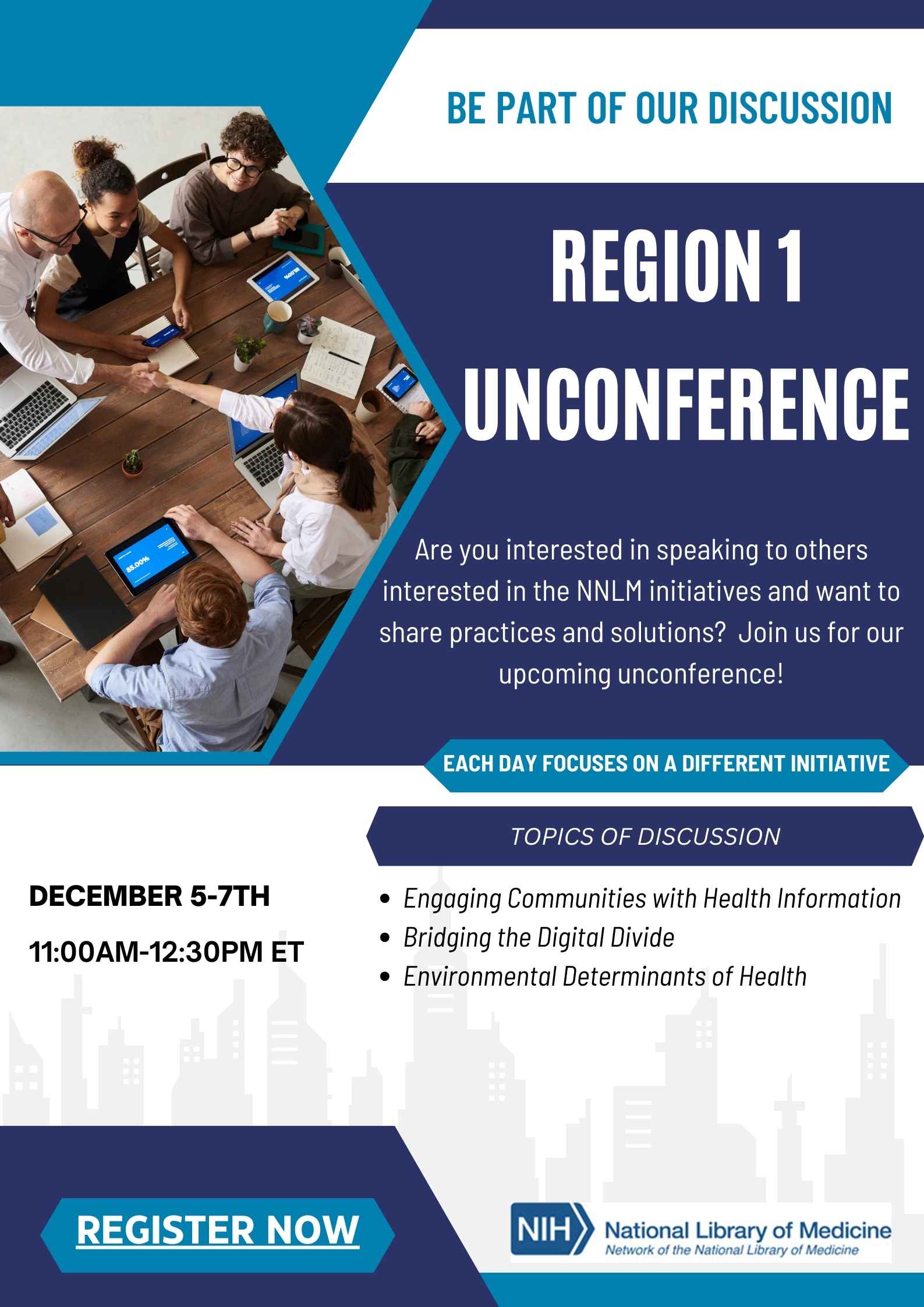 What interests you about today's session? What is your reason for attending today?

How do you engage with communities to help address the digital divide?

What strategies do you use to improve digital equity in your community?

What feedback do you get when engaging with your community?

What programs do you offer in your community to engage in improving digital equity?

What kind of opportunities would you like to see the NNLM provide in supporting your engagement efforts?
Are you unable to attend this session but would like to share your thoughts? Please feel free to participate in our Padlet for this session.
This session will not be recorded.This session will not be recorded.
This session is available to Network Members in Region 1 only.
By registering for this class, you are agreeing to the NNLM Code of Conduct
Objectives:
The goals of the unconference are to:
Deepen our understanding of what our members are doing related to NNLM initiatives.
Speak with others interested in these themes and share local best practices and solutions.
Make meaningful connections with others passionate about the topics.
View the NNLM as a space vested in addressing health misinformation, bridging the digital divide, environmental determinants of health, and research data management.
Class Details
Date(s):
December 6, 2023
Time:
11:00 AM - 12:30 PM EST
This class is sponsored by Region 1.
Learn more about this class and find other upcoming instances:
Class Contacts