Region 1 Unconference: Environmental Determinants of Health (Day 3)
Environmental factors can influence human health, including physical, chemical, and biological factors that are external to a person, and all related behaviors. Collectively, these are referred to as environmental determinants of health (EDHs). Threats to any one of the EDHs can have an adverse impact on the health and well-being of the population. These environmental threats can occur naturally, human-made, or because of social conditions and ways people live. Addressing these EDHs will directly improve the health of the population. This area covers a wide-range of topics that include (but are not limited to) socioeconomic factors, natural and built environmental factors, pollution, climate change, disaster information management, mental and emotional health, rural and urban health, tribal health, access to health care, health advocacy, and sustainability.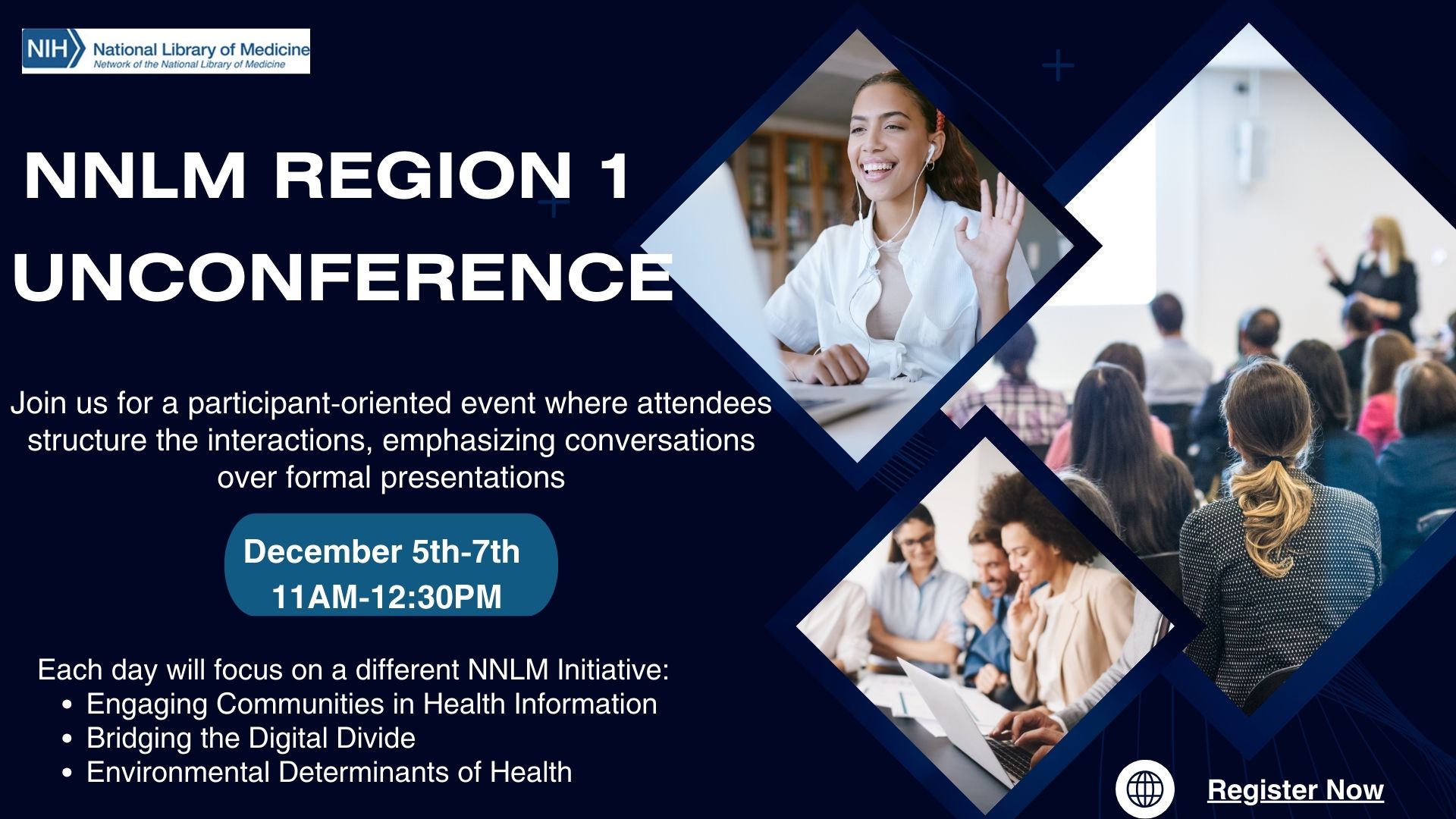 What interests you about today's session? What is your reason for attending today?

How do you engage with communities to help address EDHs?

What strategies do you use to improve EDHs in your community?

What feedback do you get when engaging with your community?

What programs do you offer in your community to engage in improving EDH?

What kind of opportunities would you like to see the NNLM provide in supporting your engagement efforts?
Are you unable to attend this session but would like to share your thoughts? Please feel free to participate in our Padlet for this session.
This session will not be recorded.
This session is available to Network Members in Region 1 only.
By registering for this class, you are agreeing to the NNLM Code of Conduct
Objectives:
The goals of the unconference are to:
Deepen our understanding of what our members are doing related to NNLM initiatives.

Speak with others interested in these themes and share local best practices and solutions.

Make meaningful connections with others passionate about the topics.

View the NNLM as a space vested in addressing health misinformation, bridging the digital divide, environmental determinants of health, and research data management.
Class Details
Date(s):
December 7, 2023
Time:
11:00 AM - 12:30 PM EST
This class is sponsored by Region 1.
Learn more about this class and find other upcoming instances:
Class Contacts
Can't join us live?
Register anyway and you'll receive the recording after the event.