Tell Us About Your NNLM Project Award
Class Experience Level
Beginner
This class is no longer accepting registrations
Have you seen our call for funding proposals? Are you interested but hesitant? Do you wonder what's involved? Do you question if your idea qualifies?
Now's your opportunity to learn from the people who have done it. Three of our current award recipients will describe their programs/projects and share their application experience.
Be empowered to apply for your own award after attending this panel speaker session. Questions are encouraged.
Guest Speakers
Michelle Andersen has been library director at Atlantic Public Library since December 2017. She holds a BA in education from Northwestern College (Orange City, IA) and Public Library Director Certification from the State Library of Iowa. It is her goal to make the library a welcoming place for all community members and to serve their needs, not just follow library trends.
Tom Cytron-Hysom is a consultant specializing in Adult Basic Education, with an emphasis on distance learning and digital literacy. He currently manages Northstar Digital Literacy, facilitates the St. Paul Community Literacy Consortium, works as a consultant with the statewide Minnesota ABE Distance Learning Support Network, and serves as grants manager for Literacy Action Network. He presents frequently at state and national conferences. Tom has a Master's in Organization Leadership from the University of St. Catherine.
Stacey Knight-Davis is the Public Health and Nursing Librarian and Head of Circulation Services at Eastern Illinois University. She holds an MS in Library and Information Science from the University of Illinois at Urbana-Champaign and an MS in Technology from EIU. She was a team member for the Southeastern Region Broadband READY Illinois in 2021.
---
New funding opportunities for Year 2 of our cooperative agreement with the National Library of Medicine (NLM) are available now from nnlm.gov/Region6. The deadline to submit is March 11, 2022. For more information, please contact Darlene Kaskie, Region 6 Engagement Coordinator. You must login to nnlm.gov in order to apply. Create an NNLM User Account, if needed.
---
Objectives:
The NNLM Region 6 Spotlight Speaker Series features presentations from guests on topics of interest to those interested in health information, outreach, programming, and more. Topics provide information to help attendees:
Know their communities
Better understand health consumers
Evaluate health information
Increase knowledge of resources and subjects
Improve health-related communication, reference, instruction, and programming
Increase health literacy
Understand and explore the relationship between technology and health
Explore ethical and legal issues.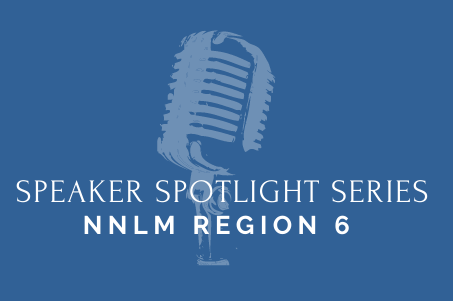 Class Details
Time:
2:00 PM - 3:00 PM EST
CE Categories:
CHIS Level 1, CHIS Level 2
Class Experience Level:
Beginner
This class is sponsored by Region 6.
Learn more about this class and find other upcoming instances:
Class Contacts
Can't join us live?
Register anyway and you'll receive the recording after the event.