Trauma-Informed Librarianship: Building Communities of Care
This class is no longer accepting registrations
Trauma-informed librarianship (TIL) is a vital practice that invites us to be intentional and deliberate about creating cultural shifts in how we approach our work to move towards healing, for our patrons, for each other, and for ourselves. This webinar will introduce participants to what trauma is and how it impacts both individuals and communities; the principles and goals of trauma-informed librarianship; how we can apply this lens to library services in actionable ways to better support survivors in our libraries, whether they are patrons or colleagues; and how we can take care of ourselves too, through 10 concrete self-care strategies.
Guest Speaker Karina Hagelin (they/them) is a chronically ill and disabled queer femme librarian who is passionate about working with library workers and librarians who are committed to creating cultures that center healing through radical empathy, collective care, and social justice work. Blending their lived experiences and expertise on trauma-informed librarianship, they lead diverse groups of librarians and library workers through engaging, interactive, and informative webinars + workshops. Karina is currently based in Ithaca, New York, where they most recently worked as an Outreach and Instruction Librarian at Cornell University. You can find out more about their work on their website, www.karinakilljoy.com.

This webinar is the first in a series on Trauma-Informed Librarianship. You can find upcoming webinars on this topic under our Spotlight Speaker Series.
Objectives:
The NNLM Region 6 Spotlight Speaker Series features presentations from guests on topics of interest to those interested in health information, outreach, programming, and more. Topics provide information to help attendees:
Know their communities
Better understand health consumers
Evaluate health information
Increase knowledge of resources and subjects
Improve health-related communication, reference, instruction, and programming
Increase health literacy
Understand and explore the relationship between technology and health
Explore ethical and legal issues.
Code of Conduct
NNLM is dedicated to providing a welcoming and supportive environment for all people, regardless of background or identity. As such, we expect respectful interactions with instructors and learners.
Read the full Code of Conduct here.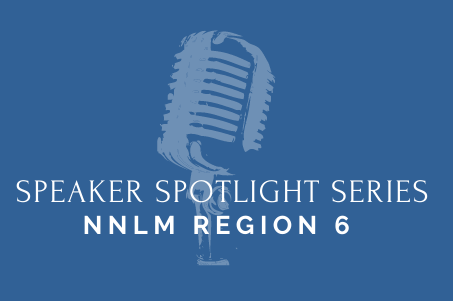 Class Details
Date(s):
January 13, 2022
Time:
2:00 PM - 3:00 PM EST
CE Categories:
CHIS Level 1, CHIS Level 2
Class Experience Level:
Beginner
This class is sponsored by Region 6.
Learn more about this class and find other upcoming instances:
Class Contacts
Can't join us live?
Register anyway and you'll receive the recording after the event.