Trauma in the Library: Findings To-date about PTSD among Public Library Staff and Methods for Ensuring Trauma-Informed Care
This class is no longer accepting registrations
Trauma-informed care for library patrons is a growing movement, however, what about workplace trauma experienced by library staff? We share findings to-date regarding our IMLS-funded study "Trauma in the Library: Symptoms of PTSD Among Staff and Methods for Ensuring Trauma-Informed Care." The project goals are: 1) to identify the types of post-traumatic symptoms experienced by library staff in diverse library settings where violence and other trauma has occurred; 2) to conduct a national online survey, interviews and fish bowls to ascertain the extent of workplace-related PTSD symptoms on staff and their awareness of existing resource help; 3) to identify trauma-informed care tools, policy and procedures that libraries can implement; and 4) create trauma-informed care for library staff curricula for teaching in MLIS programs. The outcomes include the first comprehensive baseline study of library workplace-related PTSD symptoms, tools for supporting library staff who experience those symptoms, and curricular materials for sharing across LIS schools and professional associations. Cognizant that some discussion may be triggering for participants, the speakers include a trauma specialist (Masters of Social Work) and participants will be provided with help resources.
Guest Speakers
Dr. Karen E. Fisher is the Primary Investigator of this IMLS project. A Professor in the Information School and an Adjunct Professor in the Communication Department at the University of Washington, she is also a Field Ethnographer with UNHCR Jordan, Adjunct Professor, Åbo Akademi University (Finland), and Visiting Professor, Siegen University, (Germany). With a MLIS and PhD from the University of Western Ontario and Post Doc from the University of Michigan, supporters of Karen's work include the IMLS, Facebook, Google, NSF, the LEGO Foundation, Microsoft, and the Bill and Melinda Gates Foundation. Dr. Fisher is renowned for her development and use of theory and methods for understanding information problems, specifically on how people experience information as part of everyday life, with emphasis on the interpersonal aspects and the role of informal social settings or "Information Grounds." Karen was Co-PI of the "Access for All" study of how people use public access technology in public libraries across the U.S.
Lauren Alexa (i.e. Lexa) Gambrill has a Masters of Social Work with an emphasis in trauma, and is the Research Coordinator for this study at the University of Washington. She joined the iSchool after working and volunteering with other UW Labs and programs to broaden her research experience. Lexa is concurrently earning degrees in Clinical Psychology PhD and a Masters of Public Health. In undergrad she accomplished earning a Bachelor's of Science in Psychology (BS) and Bachelor's of Social Work (BSW).
Objectives:
The NNLM Region 6 Spotlight Speaker Series features presentations from guests on topics of interest to those interested in health information, outreach, programming, and more. Topics provide information to help attendees:
Know their communities
Better understand health consumers
Evaluate health information
Increase knowledge of resources and subjects
Improve health-related communication, reference, instruction, and programming
Increase health literacy
Understand and explore the relationship between technology and health
Explore ethical and legal issues.
Code of Conduct:
NNLM is dedicated to providing a welcoming and supportive environment for all people, regardless of background or identity. As such, we expect respectful interactions with instructors and learners.
Read the full Code of Conduct here.
Recording: The recording of this webinar will be posted to our YouTube channel 1-2 weeks following the live event.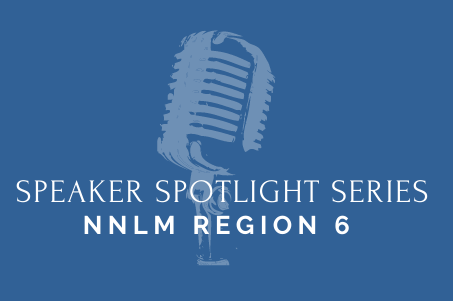 Class Details
Time:
11:00 AM - 12:00 PM EDT
This class is sponsored by Region 6.
Learn more about this class and find other upcoming instances:
Class Contacts
Can't join us live?
Register anyway and you'll receive the recording after the event.