Certified Health Education Specialist (CHES)
Learn about NNLM training that supports Certified Health Education Specialist (CHES), a certification given to individuals who have a bachelor's, master's or doctoral degree in health education. Back to Specializations
About the Certified Health Education Specialist Certfication
About CHES
Certified Health Education Specialist (CHES) is a certification given by the National Commission for Health Education Credentialing (NCHEC) to individuals who have a bachelor's, master's or doctoral degree in health education or significant coursework in this field. The CHES examination measures possession, application and interpretation of knowledge in the Seven Areas of Responsibility for Health Education Specialists:
Area I: Assess Needs, Resources and Capacity for Health Education/Promotion
Area II: Plan Health Education/Promotion
Area III: Implement Health Education/Promotion 
Area IV: Conduct Evaluation and Research Related to Health Education/Promotion
Area V: Administer and Manage Health Education/Promotion
Area VI: Serve as a Health Education/Promotion Resource Person
Area VII. Communicate, Promote, and Advocate for Health, Health Education/Promotion, and the Profession
These responsibilities are defined by the most current US-based practice analysis study. Those who receive the CHES certification must complete 75 hours of continuing education every five years to keep their certification.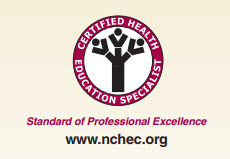 How to Earn CHES Credits
Text Box
NNLM offers continuing education for those with the CHES certification for select classes that align with one or more of the seven areas of responsibility.
View a list of all NNLM CHES-approved classes.
You must attend our CHES-approved webinars during the live to earn CHES credit.
NNLM also offers several self-paced, online classes that qualify for CHES. 
The National Commission for Health Education Credentialing (NCHEC) is the body responsible for this certification. More information about obtaining this certification and continuing education opportunities outside of NNLM can be found on the NCHEC website.